Welcome
Welcome to Beverley & District Pipe Band, based near Hull in East Yorkshire. Led by Pipe Major Paul Wright and Leading Drummer Phil Dickinson, Beverley & District Pipe Band is a dedicated group of friends that form East Yorkshire's only competitive Grade 4 Pipe Band. The focus is not solely Pipe Band Competitions, but rather the enjoyment and satisfaction gained from producing a great sound from both Bagpipes and Drums.
If you are looking for a Scottish Pipe Band or just Highland Piper for your event (whether large or small), then please contact us. Alternatively if you are looking for a new hobby or social activity – even if you hadn't considered learning to play the Bagpipes or Drums – again, please contact us. And if you dare to think you don't like the sound of the Highland Bagpipe then there's even more reason to get in touch – we think we can convert you!
Beverley & District Pipe Band makes for a great alternative to a team sport as a social activity for anyone in the Hull area, attracting members young and old from the greater reaches of East Yorkshire, West Yorkshire, North Yorkshire and North Lincolnshire.
Educational Workshops…
Since 2016 the band has been running educational workshops. Starting with colleagues from grade 1 bands, to qualified RSPBA instructors and adjudicators, to more recently professional instructors and band leaders from the very top of grade 1. Not only will being a member of Beverley & District Pipe Band give you access to the world's best tutors once or twice a year, but also weekly tuition from our band members who have been taught by the very best. The tuition provided at Beverley & District Pipe Band, is – and we can now confidently quote – "no different" to what you would get if you paid for lessons north of the border, and we provide it for FREE* For more information please contact us.
Competition Success…
2017 North East England Branch Champions in Grade 4 – the first full band victory.
Also 2017 is the second year in succession that the band won the North East RSPBA Grade 4 Mini Band Contest, and was again awarded the Best Corps of Drums. The pipe corps also took first place in the G4b Selection and G4a March, Strathspey & Reel trio contests. All of which is testament to the dedication and hard work from all band members.
The band continues to work to produce better performances for 2018.
Hire…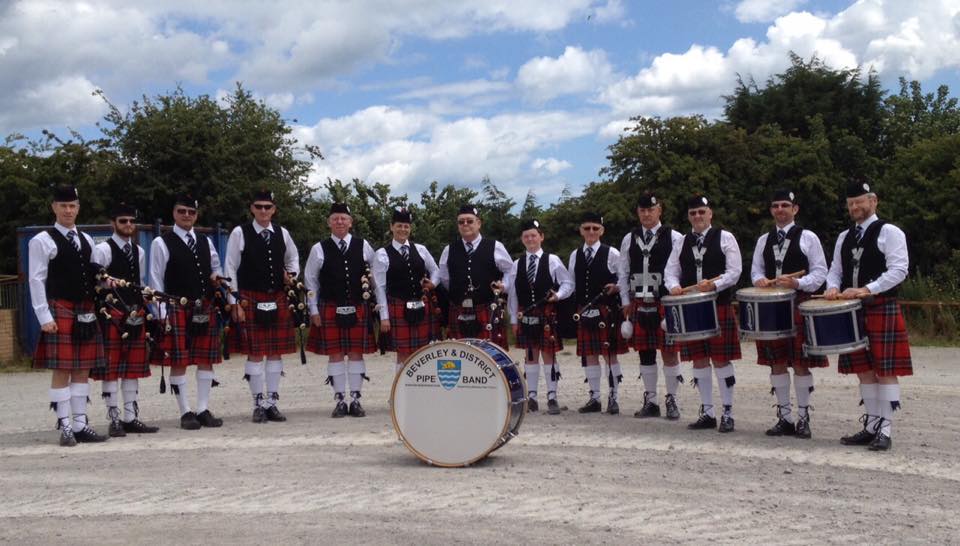 The band is available for hire, and regularly leads parades, performs at concerts, weddings and galas all over the East Riding of Yorkshire. The bagpipes bring a sense of occasion to all events, whether you require a full band, mini band, or solo piper. We have years of experience, and can advise how to tailor the performance(s) to your event.